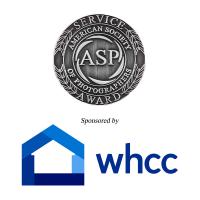 ASP Service Award
The American Society of Photographers Service Award was created to recognize members who volunteer within the organization. It is achieved by earning points through countless hours of service. In order to recognize and show appreciation for the time, talent and expertise generously contributed for the benefit of the American Society of Photographers and its members. The black ribbon and distinctive medallion is not just a symbol of hard work, but an indication of the selfless character of the person who wears it.
The Service Award Medallion is designed to demonstrate to your peers and customers your dedication and efforts to support and improve the American Society of Photographers. It should be worn at all photographic functions and presentations.
Once you have earned the initial 25 service points you will receive the Service Award Medallion at our annual Gala Dinner & Awards ceremony held in conjunction with PPA's Imaging USA. After you have earned your Service Award Medallion your continued service earns points toward Service Bars. For each additional 25 service points you earn you will receive a Service Bar. The Service Bars are attached on the ribbon with your Service Award Medallion.
SERVICE AWARD REQUIREMENTS
Service Points requests MUST be submitted between March 1st and June 30th for service activities you completed in the prior year, to qualify for awards at the ASP Gala. Individuals must apply for the Service Award points on the ASP website by selecting Member Home and then the Service Tab. Select the Service Tab and click on Enter Past Service. You enter services one at a time and save them until you have entered them all. Select from the dropdown list of Service Categories/Roles. You can enter optional comments in the dialog box. Then click Save.
There is a Dashboard showing you your current Service Point status. Your Service Points will be listed in the Service Tab.
The Service Award Committee will review and approve the Service Points you submitted. You will see the status change.
25 Service Points are required for the initial Service Award Medallion.
Recipient of the award must have been an ASP member in good standing for the year prior to receiving it.
Individuals not sure of their earned Service Award points, or who question the awarding of points, must submit written questions to the Service Award Committee Chair.
Points are awarded for the efforts within ASP only.
All point requests are subject to approval by the Service Award Chair and Committee.
No points will be awarded for any activity for which the individual is a paid employee of ASP.
If you have questions about the ASP Service Award, contact the ASP Service Award Chair, Sharon Lobel by email: ShutterBugSharon@aol.com.
SERVICE Point Entry Video - https://youtu.be/5sTcMLAerZQ
Past Service Award Recipients
Name
City
State
Dwight Okumoto
Honolulu
HI
John Powers
West Hills
CA
Bill Vahrenkamp
Mansfield
TX
Bruce Bonnett
Redlands
CA
Jim LaSala
Flemington
NJ
Sharon Lobel
Zephyr Cove
NV
Mel Carll
Valencia
CA
Chris Paulis
Ellicott City
MD
Stephanie A Millner
DPO
AE
Jeff Gulle
Flowery Branch
Georgia
John Herrel
Elgin
SC
Sabina Cavalli
Greenville
SC
Robert Kunesh
Euclid
OH
John Herrel
Elgin
SC
Kenneth Bovat, Jr.
Claverack
NY
Toni Johnson-Harryman
Norwalk
IA
Kristy Steeves
Medina
OH
Gabriel I. Alonso
Kerrville
TX
Cheri Hammon
Idaho Falls
ID
Kenneth Martin
DePere
WI
Nancy Bailey-Pratt
Fishers
IN
Joe Campanellie
Palm Coast
FL
Judy Reinford
Allentown
PA
Karen Nakamura
Gardena
CA
Bob Coates
Sedona
AZ
Leslie Kitten
Lubbock
TX
Bryan Welsh
Hillsboro
OR
Rob Behm
Spokane Valley
WA
Jeff Johnson
Longmont
CO
Dawn Muncy
Enid
OK
Ella Carlson
Littleton
MA
Kimberly Smith
Muskogee
OK
Miles Andonov
Cleveland
OH
Sandra Pearce
Okeechobee,
FL
Jessica Vogel
Shelbyville
KY
Rick Massarini
Westwego
LA
Peter Yu
Schaumburg
IL
Steve Clark
Laurel
MD
Michael Timmons
Vassar
MI
Ralph Romaguera Sr.
Madisonville
LA
Kathryn Meek
Hot Springs
AR
Walter Klages
Enterprise
OR
William Eaton
Lake Station
IN
Sher Carroll
Harleysville
PA
Kermit Buntrock
John LaVeccha
Dale Holladay
Thatcher
AZ
Linda Weaver
Winston-Salem
NC
David Smith (Deceased)
Warren Earl Motts
Groveport
OH
Doran Wilson
Angola
IN
Robert Golding (Deceased)
Jerry Cornelius
OK
D.D. Spellman
Lester Baker
Jason Hailey
Playa Del Rey
CA
Jessica Lozoya
Albuquerque
NM
Louis Dworshak
Buddy M. Stewart (Deceased)
Douglas Paisley
Sarnia
ON
J. Michael McBride
Kalen Henderson
Mt. Pleasant
IA
Frank Cricchio
Port Arthur
TX
James Bastinck
Swartswood
NJ
Ralph Hutchinson
Dennis Hammon
Idaho Falls
ID
John Stein
Frederick
MD
Michael Taylor
Williamsburg
VA
Albert Ravanelli
Drake Busath
Salt Lake City
UT
Paul Linwood Gittings
A.R. Buehman
Janice Holladay
Thatcher
AZ
Joseph Van Dolah
John Miele, Jr.
Edison
NJ
Edgar Lobit (Deceased)
Helene Glassman
Santa Barbara
CA
Henry Leichter
Howard Webber
Terry Wood
William Stevenson
Keystone Hgts
FL
Jerry Costanzo
McKeesport
PA
Michael Barton
North Aurora
IL
Alma Gray
Suzanne Fischer
Atlantic
IA
John Howell
Winnetka
IL
Randy Peterson
Seymour
WI
Randy McNeilly
Shelby
NC
Ernie Johnson
Ringold
GA
Linda Durham
Ravenna
KY
Robert Ball
Ray Goodrich
Richard Trummer
Fitchburg
WI
Cindy Romano
Buckeye
AZ
Harper Leiper
James Churchill
Grant
MI
Verna Madigan-Willett
Max Green
Thomas Henn
Hampstead
NC
Robert Wittmayer
Woodstock
GA
Marvel Nelson
Blacksburg
VA
Timothy Mathiesen
Mission Viejo
CA
Dan Hammel
Prescott
AZ
Ken Ball
Robert Symms (Deceased)
Doug Box
Caldwell
TX
Jeanne Lindquist
Everett Stoffel
Gary Meek
Hot Springs
AR
Ed Pedi
North Andover
MA
Nancy Emmerich
Oklahoma City
OK
Roland Laramie
Willimantic
CT
Don Emmerich
Oklahoma City
OK
Thomas Jadwin (Deceased)
Elbridge Purdy
Morton Sobin (Deceased)
Bonnie Costanzo (Deceased)
Jon Allyn
Milwaukee
WI
Maurice LeClair
Walter Crocker
Jessica Lozoya
Albuquerque
NM
S. Lorraine Johnson
Franklin
TN
John Perryman
Shawnee Mission
KS
Tom McDonald
Jonesboro
AR
Colbert Howell Sr.
Missoula
MT
La Mont De Bruhl
Carl Lewis
Charles Snow
Russ Clift
Laurence Blaker
Charles Blakeslee
Sam Gardner
Horace Chase