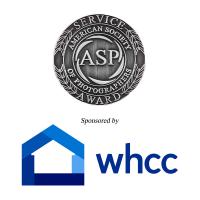 ASP Service Award - Sponsored by White House Custom Colour
In order to recognize and show appreciation for the time, talent and expertise generously contributed for the benefit of the American Society of Photographers and its members, the ASP Board of Governors has created the ASP Service Award. The black ribbon and distinctive medallion is not just a symbol of hard work, but an indication of the selfless character of the person who wears it.
The ASP Service Award shall be presented to an ASP member in good standing who has accumulated 25 or more total credits during contiguous years of ASP membership. A minimum of 15 service credits is required with the additional 10 credits consisting of service and/or competition credits. Upon verification, the medallion and ribbon will be presented to the recipient at the annual ASP Gala.
ASP Service Award Submission Deadline - September 1st.
The deadline to apply for the 2020 ASP Service Award has passed. Stay tuned for 2021 application period!
Questions? Contact the ASP Service Award Chair.
To view a PDF of the ASP Service Credit System Click Here.
To view a JPG of the ASP Service Credit System Click Here.
To submit your ASP Service Credit Report Form Click Here.
Note: The Report Form has room for up to 10 Service entries and 6 Competition entries. If needed, submit more than one form .
| Name | City | State |
| --- | --- | --- |
| Sandra Pearce | Okeechobee, | FL |
| Jessica Vogel | Shelbyville | KY |
| Miles Andonov | Cleveland | OH |
| Peter Yu | Schaumburg | IL |
| Steve Clark | Laurel | MD |
| Rick Massarini | Westwego | LA |
| Joseph Van Dolah | | |
| David Smith (Deceased) | | |
| John Miele, Jr. | Edison | NJ |
| Edgar Lobit (Deceased) | | |
| Helene Glassman | Santa Barbara | CA |
| Jerry Cornelius | | OK |
| Henry Leichter | | |
| Howard Webber | | |
| Jason Hailey | Playa Del Rey | CA |
| Jessica Lozoya | Albuquerque | NM |
| Terry Wood | | |
| William Stevenson | Keystone Hgts | FL |
| Douglas Paisley | Sarnia | ON |
| J. Michael McBride | | |
| Kalen Henderson | Mt. Pleasant | IA |
| Jerry Costanzo | White Oak | PA |
| Michael Barton | North Aurora | IL |
| Alma Gray | | |
| Nancy Bailey-Pratt | Fishers | IN |
| Suzanne Fischer | Atlantic | IA |
| John Howell | Winnetka | IL |
| Michael Taylor | Williamsburg | VA |
| Randy Peterson | Seymour | WI |
| Randy McNeilly | Shelby | NC |
| Ernie Johnson | Ringold | GA |
| Linda Durham | Ravenna | KY |
| Drake Busath | Salt Lake City | UT |
| Robert Ball | | |
| Ray Goodrich | | |
| Janice Holladay | Safford | AZ |
| Richard Trummer | Fitchburg | WI |
| Cindy Romano | Buckeye | AZ |
| Harper Leiper | | |
| James Churchill | Grant | MI |
| Verna Madigan-Willett | | |
| Max Green | | |
| Thomas Henn | Hampstead | NC |
| Robert Wittmayer | Woodstock | GA |
| Marvel Nelson | Blacksburg | VA |
| Timothy Mathiesen | Mission Viejo | CA |
| Dan Hammel | Sun City West | Arizona |
| Ken Ball | | |
| Robert Symms (Deceased) | | |
| Doug Box | Caldwell | TX |
| Jeanne Lindquist | | |
| Everett Stoffel | | |
| Gary Meek | Hot Springs | AR |
| Ed Pedi | North Andover | MA |
| Nancy Emmerich | Oklahoma City | OK |
| Roland Laramie | Willimantic | CT |
| Don Emmerich | Oklahoma City | OK |
| Thomas Jadwin (Deceased) | | |
| Elbridge Purdy | | |
| Morton Sobin (Deceased) | | |
| Bonnie Costanzo (Deceased) | | |
| Jon Allyn | Milwaukee | WI |
| Maurice LeClair | | |
| Walter Crocker | | |
| Jessica Lozoya | Albuquerque | NM |
| S. Lorraine Johnson | Franklin | TN |
| John Perryman | Shawnee Mission | KS |
| Tom McDonald | Jonesboro | AR |
| Colbert Howell Sr. | Missoula | MT |
| La Mont De Bruhl | | |
| Carl Lewis | | |
| Charles Snow | | |
| Michael Timmons | Vassar | MI |
| Ralph Romaguera Sr. | Metairie | LA |
| Sher Carroll | Harleysville | PA |
| Russ Clift | | |
| Laurence Blaker | | |
| Dale Holladay | Safford | AZ |
| Linda Weaver | Winston-Salem | NC |
| Warren Earl Motts | Groveport | OH |
| Doran Wilson | Angola | IN |
| Robert Golding (Deceased) | | |
| Charles Blakeslee | | |
| Sam Gardner | | |
| Buddy M. Stewart (Deceased) | | |
| Frank Cricchio | Port Arthur | TX |
| James Bastinck | Swartswood | NJ |
| Horace Chase | | |
| Dennis Hammon | Idaho Falls | ID |
| John Stein | Frederick | MD |
| Kathryn Meek | Hot Springs | AR |
| Walter Klages | Enterprise | OR |
| William Eaton | Lake Station | IN |
| Kermit Buntrock | | |
| John LaVeccha | | |
| D.D. Spellman | | |
| Lester Baker | | |
| Louis Dworshak | | |
| Ralph Hutchinson | | |
| Albert Ravanelli | | |
| Paul Linwood Gittings | | |
| A.R. Buehman | | |