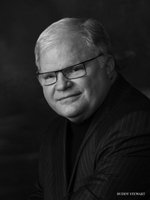 Member Details
| | |
| --- | --- |
| Name: | Ernie Johnson |
| Credentials: | M.Photog., Cr., CPP, API. |
| Studio Name: | Artistic Images by Ernie K. |
| Address: | 170 George Town Dr |
| City/State/Zip: | Ringold, GA 30736 |
| State Eligibilty: | TN |
| Phone: | 615-790-2680 |
| Email: | Contact Member |
| Website: | |
Biography
For over thirty years the name Ernie K. Johnson has been synonymous with excellence in photographic technique. He has established himself as a skilled artisan. His portraits have produced numerous "Best of Show" and "Loan Collections" awards at exhibitions around the country. The increasing recognition of his original work has generated a growing demand for his wedding and children & family portraits.
In addition to being a Master Photographic Craftsman, he has been awarded Photographer of the Year on 17 different occasions from four different groups and was inducted into the Tennessee Professional Photographers Hall of Fame in 1996. After 29 years of service and membership, the Tennessee Professional Photographers Association honored Ernie as a Life Member in 2000.
Ernie served as President of TPPA in 1986 and Music City PPA in 1983. Ernie has been on the Professional Photographers of America council for 12 years, the governing body of Professional Photographers of America. In 2001 Ernie was elected to the board of Governors of the American Society of Photographers, a group that is by invitation after you receive your Masters or Craftsman degree. In 2003 Ernie was elected to the office of Secretary Treasurer of South Eastern Professional Photographers. Ernie also holds the ABIPP degreed from the British Institute of Professional Photographers in London England.
Ernie has had articles and photographs published in several photographic magazines and were featured in InFoto magazine. Ernie is a National Juror and has been for over ten years. Ernie is very proud of his fourteen Kodak Gallery Awards and ten Fuji Masterpiece awards, the Oscars of our industry. Ernie has had on ten occasions had prints displayed ad Epcot at Walt Disney World.
Ernie awith his wife, Lorraine, who is also a Master Photographic Craftsman, CPP, have a garden studio in the historic town of Franklin, Tennessee. Last spring their garden was one of six featured on the Willamson County Garden Tour, and annual fundraising event for the local library, with over six hundred visitors touring the gardens.
Their current studio is only Four years old and has been recognized as the number one studio in the area for the last three years. They feel that giving their clients quality products consistently is the key to their success. Their fifty foot display at Cool Springs Galleria Mall is not only great advertisement for their studio, but a big attraction for the community.
Other achievements are listed below:
Tennessee Service Degree, Tennessee Professional Photographer 1981
Past President of Music City PPA 1983
Recipient of the Southeastern Award 1983
Craftsmen of Photography, PPofA 1983
Tennessee Certified Degree Tennessee PPofA 1983
Past President of Tennessee Professional Photographers 1986
Recipient of the Professional Photographers of America National Award 1986
Official Photographer for the Bush & Quale Inaugural Team 1988
Master of Photography, Professional Photographers of America 1989
Photographer of the Year Tennessee P>P>A 1986, 1988, 1990, 1994, 1999
Photographer of the Year Music City P>P>A., 1983, 1986, 1989
1992, 1994, 1995, 1996, 1999, 2000
Photographer of the year Chattanooga, P.P.G. 1994
Photographer of the year, P.P. of Ozarks, 1994, 1996
One of three photographers in American Society of Photographers to have four prints at the
National Convention displayed, and three of those prints to be in the Masters Traveling
Loan Exhibit 1994, 2002
Fourteen time Recipient of the prestigious Kodak Gallery Award
Ten time recipient of the prestigious Fuji Masterpiece Award
Print accepter for display at Kodak Epcot Exhibition, 1994,1995,1996,1997,1998,1999,2000
Professional Photographers of America Affiliate Judge 1990 to date
ABIPP Degree from the British Institute of Photography
Inducted into the Tennessee Professional Photographers Hall of Fame 1996
Recipient of Fellowship Degree from Ozarks, P.P.A. 1996
Recipient of the Joe Bass Memorial Print Award 1995,1997,1999,2001
Recipient of Life Membership in Tennessee Professional Photographers 2000
Elected to the board American Society of Photographers 2002, 2003
Elected to the office of secretary/treasurer Southeastern Professional Photographers 2003
Ernie with his wife Lorraine regularly lectures to their colleagues across the country and internationally. He has written articles for publication in several photographic trade magazines and had photographic images published.