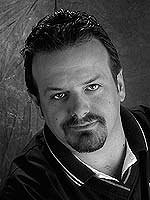 Member Details
| | |
| --- | --- |
| Name: | James Churchill |
| Credentials: | M.Photog., Cr. |
| Studio Name: | Churchill Photography |
| Address: | 7773 Shannon Faye Lane |
| City/State/Zip: | Grant, MI 49327 |
| State Eligibilty: | MI |
| Phone: | 231-670-0792 |
| Email: | Contact Member |
| Website: | |
Biography
A man inspired by fine art, music and culture, Jim has always pursued photographic excellence. Born in a small New England town, his photographic chronicles began along a beautiful coastal panorama amongst some of the most beautiful scenic vistas in the world.
Jim's passion for taking pictures began in high school and continued into the United States Armed Forces, where he became a Paratrooper. Nurturing his love for photography and country, he was the Photographer of the U.S. Army Parachute team and served as an Airborne Ranger. Later, he went on to serve with the U.S. Army Special Forces in Panama.
A past president of the Professional Photographers of Western Michigan, PPWM, Jim also served as Membership Chairman and Program Chairman while working his way through the Executive Board positions. PPWM recently named him Photographer of the Year for the third consecutive year.

Jim has also served on the Professional Photographers of Michigan board as the Properties Chairman and Print Chairman for three years and is currently serving on the Executive Board as Vice President.
In addition, Jim also serves on the board of the Great Lakes Institute of Photography, as the Liaison between the state association and the school.
Jim's strong conviction and dedication earned him the Master of Photography degree in 2001 and the Photographic Craftsman Degree in 2002.
In a very short time Jim has received many prestigious awards including two Kodak Gallery Awards, five Fuji Masterpiece Awards, and the Burrell Award for the highest-scoring image in the Mid-East States Competition. The print titled "Mortality "scored a 100. Jim has also won nine Best of Show and nine Court of Honor awards. In 2001, Jim received the award for the best Black and White image at the Mid-East States Convention.
Jim continues to display his commitment and dedication by finishing in the top five Photographers in the state of Michigan for seven consecutive years. Jim was the 2002 Michigan Photographer of the year and most recently was named the 2003 Electronic Imager of the Year, in his first year entering this competition.
Photographic excellence and service remain his driving forces. His willingness to share his expertise and to work for the profession of photography is an integral part of his daily life. Jim believes that this fundamental contribution is the key to strengthening and enriching the photographic community at large.