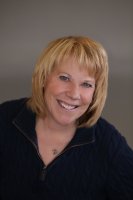 Member Details
| | |
| --- | --- |
| Name: | Kalen Henderson |
| Credentials: | M.Photog., MEI, Cr., CPP, EA-ASP |
| Studio Name: | Henderson Photography |
| Address: | 2555 Lexington Avenue |
| City/State/Zip: | Mt. Pleasant, IA 52641 |
| State Eligibilty: | IA |
| Phone: | 319-201-0122 |
| Email: | Contact Member |
| Website: | www.thestudiok.net |
Biography
Kalen Henderson purchased her photography studio in 1987, opening the business in her home and growing it through four building expansions, a spin-off, sale and then started over to do it all again in 2010. She is the President /CEO of Henderson Photography, Inc., which owned Henderson Photography through August 2006, a full-service studio in Mt. Pleasant, Iowa. After selling that studio, she returned to the industry to open StudioK, another full-service studio on June 1, 2010, in Danville, Iowa, her hometown (pop. 1,000) in rural, Southeast Iowa. In April 2011, she moved the business back to Mt. Pleasant, to a remodeled barn less than half a mile from the home where the originally purchased studio was located.
Kalen received her Photographic Craftsman Degree in 1996, the Master of Photography Degree in 1998, the Master of Electronic Imaging Degree in 2000, the ASP Educational Associate in 2003 and is both a PPA Certified Photographer, a PPA Certified Electronic Imager and an Approved Photographic Instructor.
She was honored by the Professional Photographers of Iowa with their Fellowship of Photography degree in 1997, and is a former state CPP Commissioner and PPA Councilor. She has won numerous state and national photographic awards including the Kodak Gallery Award, Fuji Masterpiece Award, EPCOT Collection and acceptance into the PPA Loan Collection and ASP Traveling Loan Collection.. She has earned PPA print merits for both her photographic work and in the Electronic Imaging area for video writing, production and direction.
Kalen is a PPA Affiliate Juror (Portrait & EI) and has judged both PPA International Competition as well as the Asia Pacific Competition in Seoul, South Korea. She was presented with the PPA National Award by the American Society of Photographers in January 2011.
Her list of speaking appearances ranges from lab seminars to state and regional conventions and PPA affiliated schools. Kalen has taught at the Kansas School of Professional Photography,Golden Gate School of Professional Photography, Florida School of Professional Photography, Triangle School, Great Lakes Institute of Professional Photography, The Texas School of Professional Photography, The Delta School and The West Coast School of Professional Photography. She has been featured three times at Senior Photographers International and the Professional Photographers of America Imaging USA. In the fall of 1999, Kalen toured Japan with Dean Collins where she was a guest of honor and keynote speaker at the Kyushu Professional Photographers International Convention. She has also been the featured speaker for the Asia-Pacific Convention in Seoul, South Korea, and has represented PPA four different times in South Korea.
Kalen saw the first of her series of photography books published, "12 Money Making Promotions For Your Studio ", kicking off her accomplishments as author, as well. Her second book, "101 Great Ideas", sold half of its first printing run prior to coming off the press in early 2000. She was a contributing writer to the Professional Photographers of Japan international magazine as well as to numerous state and national journals and was a columnist with the Professional Photographer, the monthly magazine of the Professional Photographers of America.
Prior to becoming a professional photographer, Kalen worked as a sportswriter with her work appearing in The Sporting News , Sport , Sports Illustrated and The Los Angeles Times to name a few. She also was the Director of Marketing and Public Relations for an acute care hospital and twice won Iowa's most distinguished award for hospital marketing as given by the Iowa Hospital Association.
Kalen holds a degree in chemistry from Southeastern (IA) and is a 1997 graduate of Iowa Wesleyan College with a Bachelors of Arts Degree in Communications. She and her husband, Mike - a former infielder for the Milwaukee Brewers, now a Financial Advisor with Edward Jones - have three children, Whitney (David Rogers), Bryn (Kayla Balasek) and Mallory (26), one grandson, Wil, and another granddaughter on the way.
Kalen is also active in their church in the technology ministry, a licensed private pilot and, along with her husband, Mike, owners of Airport Road Vineyard and Winery (www.airportroadvineyard.com), an eight-acre vineyard/winery/event center/tasting room in rural Henry County, Iowa.