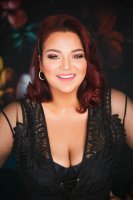 Member Details
| | |
| --- | --- |
| Name: | Marisa Balletti-Lavoie |
| Credentials: | Cr. |
| Studio Name: | Sassy Mouth |
| Address: | 77 Park Ave |
| City/State/Zip: | Meriden, CT 06450-3349 |
| State Eligibilty: | CT |
| Phone: | 203-530-0250 |
| Email: | Contact Member |
| Website: | |
Biography
I believe in bold, independent thought daily, because that is where the real freedom is.
I live my life exactly how I want to, and never, apologize for it.
My closet is a museum of clothes I have collected. The clothes I actually wear are piled next to my bed.
I believe in art for MY sake, because I don't need a therapist now. Art is my therapy, heels my soul, and helps me not be a horrible human.
I believe in documenting every bit of my life, however I can, because even if one person is interested in knowing my story someday after I am gone, they will be able to.
​I am a social media addict and check my stuff relentlessly.
I believe everyone has the power to create magic, because I have done it myself.