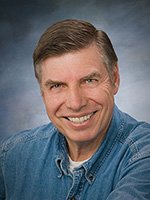 Member Details
| | |
| --- | --- |
| Name: | Paul Speaker |
| Credentials: | M.Photog., M.Artist, Cr., CPP |
| Studio Name: | Speaker Photography |
| Address: | 2444 Oceanview Drive |
| City/State/Zip: | Upland , CA 91784-1035 |
| State Eligibilty: | CA |
| Phone: | 909-946-4836 |
| Email: | Contact Member |
| Website: | www.paulspeakerphotography.com |
Biography
Paul, a graduate of Brooks Institute, began his professional photography career with General Dynamics, Pomona Division where he was employed as an industrial photographer and color printer. Ten years later, the division was sold and moved, and Paul, along with thousands of his fellow employees, was forced to find new employment in the area. After a couple of years on his own, he hooked up with Lifetouch, where he was a group and senior photographer, again for ten years. By this time, he could see the digital revolution coming, and jumped at the opportunity to "go digital" when Neil Rickman offered him the opportunity to "play with Photoshop", e.g. do all the retouching for Photo Art Industries, a full service portrait studio in Chino, CA. Beginning in 2007, Paul became available for free-lance assignments.
In 2005, Paul submitted his first competition prints beyond the affiliate level, and won the People's Choice Award for "Flower Girl" at the 2005 PPC Convention. Three of his prints merited in Austin, Texas, at the 2006 PPA Convention. About the same time, he passed the requirements for the Certified Professional Photographer designation, followed by the exam (which he passed on the first try!!) for the Adobe Certified Expert in Photoshop CS2. More recently, he has made presentations to local affiliates throughout California, and has guided Photoshop users to a more productive workflow in several day-long seminars, including California Sunday and PPA Super Monday events. At the 2006 PPA regional print competition in Washington, Paul entered his first album, which was eventually chosen as a selection in the PPA Showcase book for 2006. For the 2007 PPA convention, he had his first Loan Collection print hung. His print "Wireless Activity" was selected the People's Choice at the 2008 PPC Convention, and was a recipient of the new PPA Certified Competition Award, one of two California photographers to be so recognized at both the state and regional level.
Paul was recognized by his peers in 2005 as the Outstanding Portrait Photographer and overall Photographer of the Year by the Inland Empire Professional Photographers and Videographers. The Professional Photographers of California also presented Paul with their highest medal for volunteerism, the Evans-Kingham Award. In addition, Paul has earned the PPC Fellowship Award for his accepted entries in the State Print Competition, and the PPC Service Award with three bars for his many years of service to the state association and the annual state convention. In addition to memberships in IEPPV, PPC, and PPA, he is also a member of ASP, WPPI and NAPP.