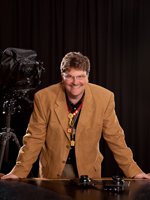 Member Details
| | |
| --- | --- |
| Name: | Richard Trummer |
| Credentials: | M.Photog., Cr., CPP, EA-ASP |
| Studio Name: | Rick Trummer Consulting & Training |
| Address: | 5194 Sassafras Drive Unit #101 |
| City/State/Zip: | Fitchburg, WI 53711 |
| State Eligibilty: | WI |
| Phone: | 608-469-1097 |
| Email: | Contact Member |
| Website: | www.ricktrummer.com |
Biography
Rick Trummer, M.Photog.,Cr,CPP,F-WPPA,F-APPI,F-SCPPA,F-PPANI,F-IPPG,EA-ASP has considered himself a photographer for the majority of his life. At nine years of age, Rick began doing yard work for the internationally known artist, Aaron Bohrod. After a days work for the Bohrod mansion, Rick enjoyed watching Aaron work on his famous still life paintings that, today, hang in some of the finest museums and galleries in the world. Although Rick's interest in painting and drawing was great, he never progressed in those areas; his love and passion always belonged to the camera. At the young age of ten, he asked his mother to co-sign the loan papers for his first camera and the rest is history. Rick has the rare gift of a hobby, which has become his profession; the combination of which has made him an award-winning artist.
His photographic talents blossomed in High School where for three years he was head photographer for the school yearbook and even taught classes in the photographic area. After numerous awards in junior competitions, Rick attended Madison Area Technical College to receive formal training in the photographic field. Shortly after receiving degrees in both Photography and Visual Communications, Rick not only started his own business, "Trummer Photography", but began to teach photography and darkroom techniques at his Alma Mater and the University of Wisconsin Extension. Rick then attended the University of Wisconsin-Madison to further his education and finish his degrees in Art and Visual Communication.
In 1986 Rick's' life changed dramatically. A car accident left him with serious back problems that would later require surgery and the eventual loss of his business that he built up from the ground floor. For more than a year of his life, he worked to put his life and business back together and started up "Fine Art Photography, Inc." in 1988. In the same time frame, he met the love of his life, Glori Geier who today stands at his side as his wife and driving soul of his inspired work. February 15, 1991, Rick son, Taylor John Trummer, was born. To this day, he considers it one of the two greatest moments of his life. The other is the birth of his second son, Justin Michael Trummer, born on July 23, 1996.
Rick talks of the merger of his business, in 1992, with well-known portrait artist Lee Larsen one of the most progressive moves of his career. "He has taught me so much of the photo industry that I ever dreamed of. He has made me a better photographer, businessman and leader than any other influence in my life".
In 1996 Rick left his General Manager duties at the Larsen Studio after a heart attack. He was the Supervising Photographer at American TV, a 12-store franchise in the Midwest. Today, he is a Technical Sales Representative for American Color Imgaing, Inc., one of the premier labs in the country, He also runs a newly developed specialized photography studio "The Image Design Group". Although his true love and the majority of his work is commercial photography, even in the portrait and wedding fields his artistry shines through. In his twenty five plus year career he has been creating commercial and portrait advertising that challenges the imagination. His award-winning style has been seen and highlighted on some of the top publications throughout the U.S. and Canada.
He has received numerous awards for his excellence including five "Best of Shows" commercial honors from the Wisconsin Professional Photographers Association, three prestigious "Kodak Gallery Awards", ten "Fuji Masterpiece Awards" and over 20 "Grand Awards" from the South Central Photographers Association. The SCPA has also bestowed the 1993 – 1997, 1999-2002 "Best of the Year" commercial awards, numerous "Court of Honors" and the "Outstanding Achievement Award" ten times. He has been presented over 250 "Par Excellence" blue ribbons for his photographic art in his career. In 2002, Rick received the "Lifetime Achievement Award" from the South Central Photographers Association at the age of 38.
He has received "Special Service Awards" from both the SCPA and the WPPA and is a two time President of the South Central Photographers Association. He is a Past-President of the Wisconsin Professional Photographers Association and received the "National Award" from the WPPA and the ASP. In 2003 he was elected to the Board of Governors to the ASP and is currently serves on the Executive Board of Directors as Vice-President
In 1993, Rick became a Certified Professional Photographer. In 1995, he received Fellowships from both the WPPA and the SCPA as well as his "Photographic Craftsman Degree" from the Professional Photographers Association. In 1996 he followed with his "Master of Photography Degree" from the PPA.
Rick believes in an ever-growing quest for photographic knowledge. He is constantly pushing himself to the ends of the envelope to become a better photographer and person. Through his teaching and programs in 22 States, Rick has grown much in the last decade, not only in his photographic career, but his personal life as well. He continues to teach and share his knowledge with his peers and the photographers of the next generation with the start of his new venture...Rick Trummer Consulting and Training.