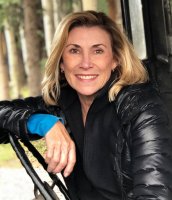 Member Details
| | |
| --- | --- |
| Name: | Sharon Lobel |
| Credentials: | M.Photog., Cr. |
| Studio Name: | Sharon Lobel Photography |
| Address: | P. O. Box 1732 |
| City/State/Zip: | Zephyr Cove, NV 89448 |
| State Eligibilty: | CA |
| Phone: | (818)802-7597 |
| Email: | Contact Member |
| Website: | www.SharonLobelPhotography.com |
Biography
Sharon Lobel, M.Photog, Cr., M-PPC, S-PPC is a National & State accredited Master Photographer and Photographic Craftsman. She is a self-taught landscape, nature, wildlife, ocean and surf photographer.
With endless places in the world to photograph, Sharon is always ready to set off to find another adventure. Don't let her city girl looks fool you because she had rather pitch a tent and hang out on the side of a mountain than go shopping any day!
In her younger years she worked as a model, both in print and television, which has given her a great advantage in photography. Sharon has traveled extensively around the world. She has experienced a wide range of adventures & photo safaris throughout Africa, Asia, Belize, Chile, Europe, Mexico, the Caribbean and the United States.
Sharon was the 2016 and 2017 President of PPLAC – Professional Photographers of Los Angeles County and has served as 1st Vice President, Secretary, Treasurer and Parliamentarian.
She is a multiple award winner with PPLAC and was named the 2011 Nature & Landscape Photographer of the Year and Overall Photographer of the Year. In 2014, she was named PPLAC's Nature Photographer of the Year; Open Photographer of the Year & she received the Judges Choice Award.
Under PPC - Professional Photographers of California, she has volunteered for numerous positions such as the West Coast School Secretary, PPC State Secretary and Image Competition Critique Chair. Sharon has several state award winning images with PPC and was named the 2016 PPC Animal Photographer of the Year. Sharon received her Service award (S-PPC) early on with PPC and in 2017 she received her PPC Master of Photography Degree. In January 2019 Sharon received the most prestigious award that PPC can bestow upon an individual, the Evans-Kingham Award for her service to the photographic community.
With PPA, Professional Photographers of America, Sharon was the 2013 & 2016 International Silver Medalist winner and has several images in the Loan and Showcase collection books. In 2017 she received both her PPA Master of Photography and PPA Craftsman Degrees.
Sharon is also a photography educational and motivational speaker on all her travel adventures and on "PMS" — "Passion, Motivation & Suitcase for Success". She will dig deep into your passion and encourage you to find out what motivates you! Her "Suitcase for Success" is full of ideas from photographing insects to mountains, sharing her best tools and tricks in the field, traveling locally and abroad.
You may check out her safari adventures and workshops at this website SharonLobelPhotography.com or email her at ShutterBugSharon@aol.com.