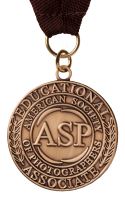 ASP Educational Associate
The ASP Educational Associate is conferred on those special individuals who actively participate and promote the ideals and philosophies of the organization beyond the initial recognition given with their acceptance into the Society. It is available to all active, life, honorary life, and international members of the Society that hold a PPA Craftsman degree.
Eligibility to apply for the ASP Educational Associate requires that an individual hold the PPA Photographic Craftsman degree, be a current ASP member in good standing, AND have acquired 30 additional speaking, teaching, or writing merits AFTER receiving their degree during contiguous years of ASP membership.
The applicant must complete a minimum of three consecutive years of membership in ASP prior to application and judging for the Educational Associate.
The applicant must write a paper of at least 3500 words of individual research and thought that demonstrates the applicant's mastery of the field and supports a position for a new idea, development, or trend.
ASP Educational Associate Submission Deadlines: Application and application fee - July 1st.; Thesis - August 15th
Note: These are the deadlines to apply for 2023 Educational Associate Degree.
Download the Educational Associate Guide
Educational Associate Papers Click Here
Name
City
State
Year
Chris Paulis
Ellicott City
MD
2023
Kelly Schneider
Accokeek
MD
2023
Thomas Rouse
Branford
CT
2022
Margaret Bryant
Carrollton
TX
2022
Bryan Welsh
Hillsboro
OR
2021
Dennis Chamberlain
Corrales
NM
2021
Steve Clark
Laurel
MD
2019
Mary Fisk-Taylor
Richmond
VA
2018
Bob Coates
Sedona
AZ
2018
Ella Carlson
Littleton
MA
2016
Christine Walsh-Newton
New Philadelphia
OH
2016
Richard Trummer
Fitchburg
WI
2015
Dana Nordlund
Frewsburg,
NY
2015
Michael Barton
North Aurora
IL
2012
John Stein
Frederick
MD
2010
Glenn Cope
Tonkawa
OK
2010
Robert Howard
Cleona
PA
2009
Gary Meek
Hot Springs
AR
2008
John Woodward
St Petersburg
FL
2007
Kalen Henderson
Mt. Pleasant
IA
2003
Sara Frances
Denver
CO
2000
Lawrence Karpman
Bedford
TX
1998
Terry Deglau
Greensburg
PA
1998
Jerry Costanzo
McKeesport
PA
1997
Timothy Mathiesen
Mission Viejo
CA
1996
Alan Gibby
Ogden
UT
1996
Rick English
Zephyrhills
FL
1995
Ken Huang
Chiyoda-Ku
TOKYO
1995
Helen T. Bousier
1995
Linda Weaver
Winston-Salem
NC
1993
James Bastinck
Newton
NJ
1993
John Hartman
Stevens Point
WI
1993
Jerry Interval
Moon TWP
PA
1992
Guy Grube
Eastford
CT
1991
James Monteith
Annville
PA
1990
Jerry Pokorny
1990
Edgar Matuska
Seattle
WA
1988
Ann Monteith
Annville
PA
1988
Frank C. Grillo
1987
Marty Rickard
1987
Thomas B. Jadwin
1986
LaMont DeBruhl
Asheville
NC
1986
Verna Madigan Willett
1986
Charles (Bud) Haynes
1986
Jerry Cornelius
OK
1986
William Meriwether
Macon
GA
1984
Charles Lewis
1984
Helen Yancy
Plymouth
MI
1984
Bruce Muncy
Roanoke
VA
1984
Robert Symms
Augusta
GA
1984
Roland Laramie
Willimantic
CT
1984
Bill Weaks
Plainview
TX
1984
Warren Earl Motts
Groveport
OH
1984
Shirley Hurrell
1984
Robert Stevenson
1983
Morton Sobin
Woodcliff Lake
NJ
1983
Ron Stewart
1983
Arthur Wendt
Savage
MN
1983
Tom McDonald
Jonesboro
AR
1983
Jay Stock
1983
Don Blair
Murray
UT
1983
Robert Golding
Philadelphia
PA
1983
Paul Skipworth
Dallas
TX
1983
Frank Kristian
1983